Teacher Spotlight: Headmaster Dykes, 6th Grade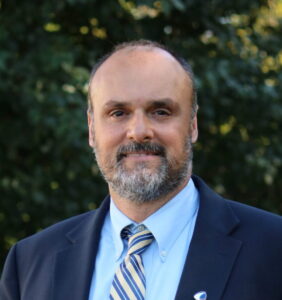 Headmaster Dykes has been teaching for 22 years, the last 14 of which he's spent at SSCCA, providing instruction in Logic, Bible, History, Literature, Art, and P.E in addition to running the day to day affairs of the Academy as headmaster. But his love for students and teaching doesn't end in the school classroom: he also spent 6 years as a Sunday School teacher in his home church and served as as the director of youth ministries at St. Stephen's for a number of years. His favorite aspect of teaching is seeing children excited about learning and energetically engaged in the learning process, and he is continually impressed with how well classical education can shape children to desire wisdom and virtue and to love those things which are true, good and beautiful.
When not teaching or managing the daily affairs of the Academy, Mr. Dykes loves soccer, reading, cooking and thinking about philosophical issues. He and his wife, Susan, have 3 boys at home as well as a daughter who is married and pursuing a career in teaching. They also have a frisky little Australian Terrier named Gracie.