Student Spotlight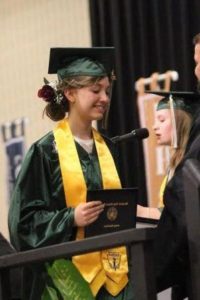 Congratulations to SSCCA Alumna, Maya Parks, who was selected as a National Merit Finalist this year!  According to the NMS website, the National Merit Scholarship Program is an academic competition for recognition and scholarships that began in 1955. High school students enter the National Merit Program by taking the Preliminary SAT/National Merit Scholarship Qualifying Test —a test which serves as an initial screen of approximately 1.6 million entrants each year—and by meeting published program entry and participation requirements.  Of those 1.6 million entrants, only 15,000 are selected as Finalists.
Maya attended St. Stephen's from 2nd through 8th grade, after which she attended and graduated second in her class with a 4.52 grade point average with straight A's from Century High School.  She also completed 11 AP courses and received an AP Scholar Award and math content award from Century High School.  Maya's high school counselor described her as "a well-rounded young lady who has served as an excellent role model for all students… Her passion to learn, explore, and challenge herself will serve her well as she continues on to a four-year university."
Maya is interning in Pathology at NIH this summer and is currently working at the HOSA (Health Occupations Student Association) conference in Orlando. In the Fall she will be attending the University of Texas at Dallas where she has received a full 4 year scholarship, as well as a study-abroad stipend.  She intends to study Neuroscience and her ultimate goal is to become a trauma surgeon.