SSCCA Alumna Has a Passion for Music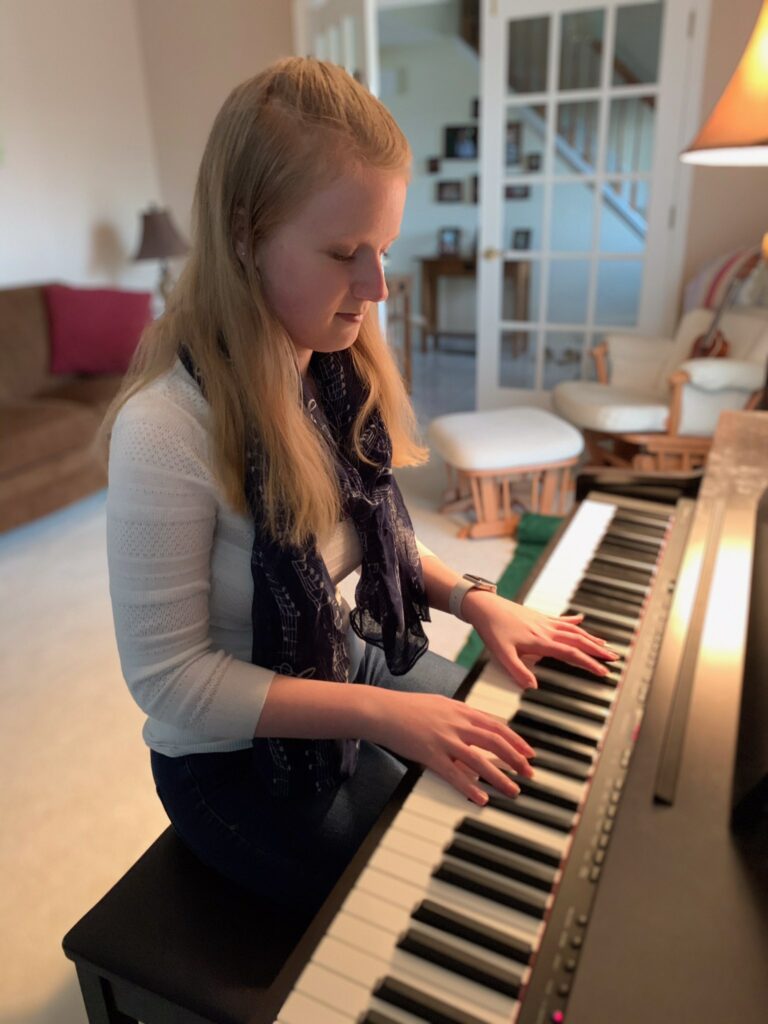 Meet Anna Mattix, an SSCCA alumna and a Christiana Homeschool Academy (CHA) junior who has spent her high school years rigorously studying Great Books, biology, physics, chemistry, Latin, rhetoric, algebra, geometry and calculus at her classical homeschool tutorial in Westminster, MD. Prior to her recent years at CHA, Anna spent grades K through 8 as an SSCCA student where she developed the strong academic foundation that prepared her for the the rigors of high school.
Despite her challenging high school schedule, Anna's interests don't lie solely in academics. She enjoys reading, crocheting, hand lettering, sewing, crafting, working her part time job at a local farmer's market, and especially making music!
Anna's love for music started at a young age, both in and out of the classroom. At SSCCA she enjoyed choir, chants and jingles in class, and singing with her friends on bus trips. In first grade Anna was urged by her church's music director to try out for their church's children's program. Upon auditioning, she received a role, and as she would tell you, she's "been singing ever since!" In 3rd grade Anna began studying piano in private lessons, which she continued through 8th grade. She began using her gifts with the keyboard in church in middle school by playing occasional offertories, and she joined her church's praise team in 7th grade as a vocalist. Eventually she grew into playing the keyboard for the praise team band, which she still does regularly. She also helps to lead her youth group band and even found a creative way to play her ukulele during youth group Zoom calls during the Covid 19 Pandemic.
Music plays a major role in Anna's daily life and faith. She looks forward to being part of worship every Sunday, and listens to Christian music regularly, even having specific playlists that speak to the different seasons of life she may experience. She currently aspires to go to college for a degree in Music Education, similar to her grandfather who was a middle school band teacher! She also wants to learn to play numerous instruments, especially brass instruments like the trumpet and saxophone.
When asked if she had any advice for beginners, she wisely offered this perspective: "When you're starting out, know that it won't be perfect, but as you practice and do it more often you'll improve – so stick with it. It will become more natural. Don't give up on it just because you're not great at it when you first start." Sounds like Anna's already got a few teaching skills up her sleeve and there's no doubt she'll make a great music educator one day!