Nothing like a "Servant's Touch"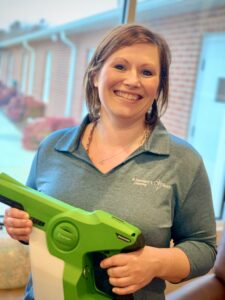 At SSCCA we have been incredibly blessed with teachers and staff who have gone above and beyond during the Covid 19 Pandemic. Despite the uncertainty in the world at large in 2020 due to Covid 19, our staff made in person learning their priority, serving both our Academy students and their families. One of those staff members is Mindy Dumonchelle, owner of A Servant's Touch Cleaning, LLC.
Mindy has been a parent at SSCCA for four years, and saw first hand last year the difficulty her son had with virtual learning. Hearing similar stories from other parents, Mindy wanted to do whatever she could to help facilitate in person learning at SSCCA for 2020-2021, so she adjusted her regular cleaning schedule in anticipation of the school year and offered her cleaning services to the Academy.
Throughout the school year, Mindy has cleaned the Academy daily with additional deep cleanings interspersed. But Mindy does more than simply live out the "clean" part of her "Clean, Honest, Compassionate" motto during her hours at the Academy. As she cleans the sanctuary daily after chapel with her servant's touch, she prays for God's protection of the school, staff and students. And she'll tell you with a smile, that's the "best and most effective cleaning tool" she has.