Teacher Spotlight: Anna Featherman, 5th Grade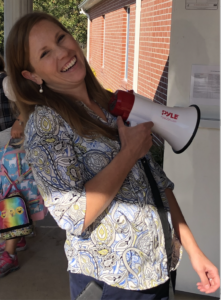 It's not every day that you meet a classical educator who was blessed to received a classical education herself! Born and raised in Florida, Mrs. Featherman attended a classical school from kindergarten through tenth grade. Looking back, she believes her classical education shaped and molded her greatly, helping to form her into the woman she is today and giving her a passion for both teaching classically and having her own children taught classically.
Mrs. Featherman has been teaching fifth grade at SSCCA for four years and loves when her students understand a concept or become excited about learning. When she's not teaching and grading, Mrs. Featherman enjoys hiking, camping, yard work, playing with her kids, exercising, reading, home improvement and horses. She and her husband, Jason, have two daughters, a son and a dog.