Join us for Our Biggest Fundraiser of the Year!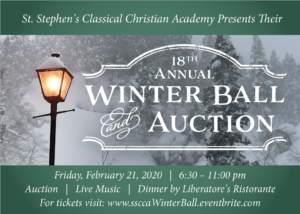 The 18th Annual Winter Ball & Auction is right around the corner! Join us on Friday, February 21st, 2020 for a wonderful evening of food, fun and fellowship attended by hundreds of SSCCA alumni, students, families, and supporters. Tickets can be purchased here.
On the Menu:
Appetizers donated by The County Cork, Basta Pasta, Glory Days, Baldwin's Station and Carraba's (as well as hand-passed hors d'oeuvres from Liberatore's)
Dinner from Liberatore's
Dessert from By Diana and Fran Frey
Wine donated by Oakland Mills Liquors
Coffee donated by Starbucks
In the Program:
Dancing to Live Music from the Bachelor Boys Band
Silent Auction
Photography by Allyson Washington
Many Thanks to Our Sponsors:
Platinum
Booth Properties
Playtime Pastures
Gold
Gary and Jill Miller
Leverett & Associates
Silver
McAllister and Co. Insurance
Dr. and Mrs. Obazee
CareConnect, Inc.
Bronze
The McNulty Family
Progressive Family & Cosmetic Dentistry
Norris Honda
Al-Tech Associates
Carla Viviano – Re/MAX
Martin's Grocery Store
The Andrews Family
Thank you in advance for your support of this wonderful evening and important fundraiser. We hope to see you there!
SSCCA Students Serve the Community
On Friday, October 4th, SSCCA students spent a beautiful fall day harvesting potatoes at First Fruits Farm in Freeland, Maryland.
Since it's humble beginnings as a small ministry to feed the hungry in 2004, First Fruits Farm has utilized volunteers to harvest more than 14.6 million pounds of fruits and vegetables to share with local food banks, homeless shelters, soup kitchens and other food providers. Their food is distributed regularly through the Mid Atlantic and on occasion has gone to Oklahoma, Texas, North Carolina and beyond!
SSCCA students worked hard in the dirt alongside students from a Communications Class at Carroll Community College, who were there as a way to greater understand food insecurity. Together they harvested 40,000 pounds of potatoes! Many thanks to First Fruits for allowing us to come serve!
SSCCA Teachers Receive Training
This July seven faculty members of SSCCA were grateful for the opportunity to attend a teacher training conference in Lancaster, Pennsylvania hosted by Veritas Press. The focus of this conference was on classical education from a Christian worldview with an emphasis on preparing teachers to restore the culture to Christ one young heart and mind at a time. There were three days of teacher training with multiple simultaneous seminars covering all areas of SSCCA curriculum. We were also able to meet many new colleagues, including faculty from a classical Christian academy in China, who have been experiencing persecution by their government. It was an incredibly enriching experience and we can't wait to bring back what the inspiration and training we have gained to our classrooms!