Annual Speech Off Winners!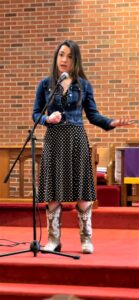 Each year in the Spring, SSCCA holds its annual In-House Speech Meet, followed by a competition of Speech Meet winners, called the Speech Off. This event has many purposes, such as training the children's minds to process and present, filling their minds with great material that will help them imitate great language, and preparing them to one day be able to speak and defend their views eloquently and boldly (the third stage of the classical model—rhetoric). This year's Speech Off proved to be as impressive as ever.
For the Speech Meet, students in junior kindergarten, kindergarten, first and second grade tested out their public speaking by reciting nursery rhymes, classic children's poetry, Bible passages, Egyptian poetry, and the work of Isaac Watts, prolific hymn writer of the 17th century. Third and fourth grade students quoted fables, classic inspirational poems, Psalms and New Testament passages describing the life of Christ, as well as prayers from monks of the early Middle Ages and narratives of Greek history. Students in grades five through seven, more comfortable with the routine of public speaking, shared longer historical speeches from the Founding Fathers, poetry by Longfellow, Psalms, portions of historical speeches, Bible passages, and WWI Era poetry. Eighth grade students, many of whom could be considered "Speech Meet Veterans," recited passages from Lord of the Rings, Beowulf, Song of Roland and Shakespeare's Henry V along with other selections from Medieval literature.
Congratulations to the following students for their hard work and excellent performances!
Kindergarten v 1st Grade
Winner: Alecia Gadiyak
Runner Up: Jack Olson
2nd Grade v 3rd Grade
Winner: Ariana
Runner Up: Noah Featherman
4th – 6th Grades
Winner: Jacob Condon
7th Grade v 8th Grade
Winner (Tie): Carly Clark and Renata Sujeta
Runner Up: Jaedyn Packett