Annual "Cowboy" BBQ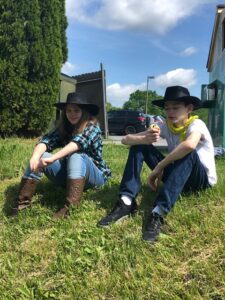 One of the much anticipated traditions of sixth grade is Mr. Dykes' yearly "Cowboy Barbecue." Although Covid caused this year's barbecue to be rescheduled from November to May, the sixth graders were none the worse for wear!
Dressed in their flannel shirts, cowboy boots, hats, and bandanas, this year's sixth grade class made an old fashioned chili recipe from the 1800's, participated in BB gun target practice, and enjoyed roasting hotdogs and s'mores around a fire in the "pit."
In addition to being a great time, the barbecue reinforced the students' learning about the cowboys of the 1800's whose job was to drive the cattle from ranches in Texas to cities in the north and east where they were processed for food.
We are grateful at SSCCA to be able to reinforce history in such fun ways!